Selected Products
Details
Product Features
---
OMRON HBF-256T Body Composition Monitor Omron healthcare provides innovative healthcare devices with cutting-edge technology to provide the consumers in pursuit of good health the ability to monitor their fitness and health. The Omron HBF-256T Body Fat Analyzer is a high quality scale with a simply stylish design with which you can regularly keep a track of your fat levels. This Omron health care device is portable and small in size so you can conveniently carry it everywhere you go. Additional features: BMI display, resting metabolism display, body age display, equipped with child's algorithm suitable for kids, youngsters 6 years and above, BMI assessment, ideal partner for health and beauty, quick and easy weight monitor, slim and compact, easy store. MEASURES Body fat Skeletal muscle percentage weight BMI Visceral fat level Body Age Resting metabolism.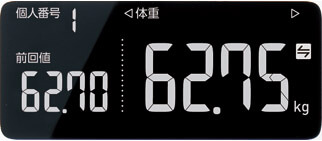 IN THE PREVIOUS VALUE DISPLAY, CHECK THE CHANGE OF THE BODY
The measurement result is displayed simultaneously with the previous measurement value. Weight can be found in units of 50 g so you can check small changes in body weight at a glance.
SMART DESIGN OFTRANSPARENT ELECTRODE GLASS TOP BOARD
Flat design with transparent electrode and glass top plate, no buttons or irregularities on the display screen. Available in three colors of white & black. You can choose according to the tone of the installation place, such as a lavatory or living room.
EASILY MANAGE MEASUREMENT DATA WITH IPHONE / ANDROID SMARTPHONE

Bluetooth communication function is installed. Measurement data can be transferred to the iPhone / Android application "OMRON connect (Omron Connect)", and measurement data such as weight, body fat percentage, skeletal muscle percentage can be easily checked and managed.
What's Included
---
・1 Body Composition Monitor
・4 AA Batteries
・Instruction Manual
Be the first to review this product